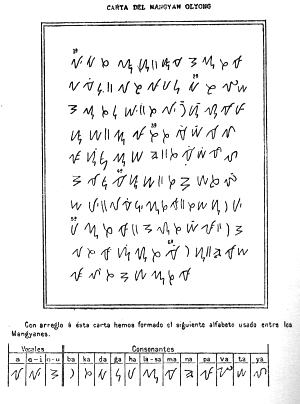 Translation of the Letter:
Line 1: Inda kang sulat lomas-og sa kanmo, amigo, ako pahaga-
Esta mi carta llegara a ti, amigo; dame
This letter of mine will reach you my friend; give me
Line 2: da kualta, usa ka gatus, kang ibili sa manga sotan, sa pag-
dinero, un ciento, para comprar ropas, porque
some money, one hundred, to buy clothing, because
Line 3: ka kami ti Mangyan poble gid sa tanan; kami ti Mangyan unmangid
nosotros los Mangyanes somos los mas pobres; nosotros los Mangyanes
we Mangyans are very poor (the poorest), we Mangyans
Line 4: mai sotan; kang utang kowintahen, amigo sa kanmo, kang talabaho-
carecemos enteramente de ropas; toma en cuenta esta deuda, amigo, que te pagare
are completely without clothes; take account of this debt, friend, which I will pay
Line 5: han sa kanmo usa ka timpo, bag-o ako mule sa kan-
trabajando para ti un ano, antes de volver yo a mi
by working for you one year before I return to my
Line 6: mi balai no matapus ye kang utang sa kanmo.
pueblo, y no lo hare sin pagar esta deuda a ti. town, and I will not do until I have fully paid my debt to you.